Typical Costs
25 – 35 Hours
Typical Timeline
10 – 15 Days
The Website Optimization project is focused on making adjustments to your existing website so that it can function as a foundation for marketing campaigns and communications programs.
Our focus areas are the implementation of a strong marketing funnel for your different target audiences, professional content development, SEO, and a strong foundational design centered around optimal user experience.
Using your Member Profile as our primary resource, our team begins by analyzing and recommending adjustments to your existing sitemap and marketing funnel. We then determine what changes will benefit your site, including design, calls to action, functionality, and content changes.
We will create landing pages for your core audience groups and services in order to personalize your users' experiences. This helps to maximize conversion rates as well as generate leads for your business and ensures you the best possible ROI on your advertising efforts.
Your website will act as a marketing vehicle for all advertising efforts, driving targeted traffic to the areas of your site that will make the most sense to them and optimizing your advertising return.
A heavy focus is placed on user experience and designing your site pages and architecture in a way that is quickly and easily understood to avoid traffic drop-offs.
On-page SEO best practices are utilized to ensure that it is visible to search engines and in compliance with organic search standards.
The use of landing pages provides a platform for you to speak directly and individually to your target groups, providing them with an experience that will maximize the potential for conversions, lead generation, and sales.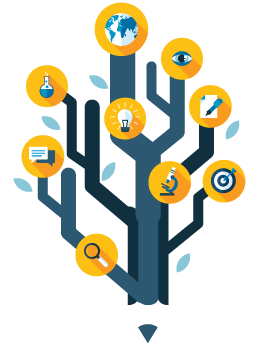 Additional Considerations
Consider the following as you begin this project. Our team is happy to collaborate with you on the best approach.
Do you have access to your hosting and domain accounts?
Have you had any specific issues with your website in the past that you would like to address through this optimization?
Have your previous optimizations helped to improve your conversions or lead generation?
Do you want to gather more leads, increase sales, improve user experience, increase newsletter sign-ups, improve the site design or speed, or improve SEO?
Is there anything that your site is not currently capable of that you feel would benefit your business?
Tailored To Your Business and Industry
Every brand is different. We believe that marketing should be highly-tailored for each brand. Since our team works with a wide range of industries that targets a variety of audiences across many markets, samples of our team's work will convey an approach that is dramatically different from the approach that we would take for your brand.
We work closely with every new member to document their business' unique visual branding and messaging approach prior to conducting any work.
Click here to learn about our team's industry-specific strategic approach.
Our team will execute this project in defined phases and we will keep you updated on progress within each phase of development, giving you the ability to provide feedback, direction or collaborate with our team throughout every step of the process.
1) Access Coordination and Strategy
During this initial phase, we review your business's Member Profile and the project details. We confirm access to your business's hosting account, domain registrar, email marketing account, if applicable, and any other third-party services or plugins that will be used in this project. We may ask you questions to clarify details or expectations before we get started.
Our team will determine both the site architecture and structural content outline. We will start working on creating an updated sitemap and content outline for use throughout the project.
We may recommend changes to the site design, structure, and design. We may also recommend a new WordPress theme, if applicable. All recommended optimizations will be based on industry best practices.
2) Initial Project Approach
During the next phase, our team develops the primary pages for the site optimization to illustrate the approach. For this effort, we may use our development server, in which case the development site would be set to "noindex" so it will not appear in search results at this phase. We may also install plugins that are necessary to optimize the site.
Our team will begin building out home page improvements, landing pages, and other recommended site enhancements.
Once finalized, our team will present the sitemap and strategic approach to you with details about next steps, including design, content, landing page, and other recommendations. We encourage you to provide our team with feedback during this phase.
3) Project Production & Control
During this phase, our team incorporates your feedback and continues working on your website optimization.
We check all site functionality to ensure that everything is working correctly, scan the entire site for spelling and grammar errors, check the contact information across the site, and check that there is no filler copy on finalized pages. We also develop the marketing funnel and calls to action.
At the end of this phase, we send you an update so you can monitor project progress. Typically, you will be able to review major landing pages at this phase. We encourage you to provide our team with feedback.
4) Project Presentation
During this phase, we implement your feedback from the last phase and finalize the optimization, including the following details:
Check for filler or missing content.
Check images for sizing and watermarks.
Check for copyright in the footer.
Check for spelling and grammar errors.
Check for widow/orphan words.
Check the treatment of bulleted lists.
Ensure all links are working correctly.
Test navigation drop-down menus and rollovers.
Check all email links.
Review the mobile versions of the site.
Review the site marketing funnel.
Double-check calls to action.
Double-check cross-selling elements.
Double-check primary and secondary navigations.
At the end of this phase, our team will present a full overview of the entire project to you, outlining the execution of design choices, strategy, examples of SEO best practices, and any other relevant details.
If the optimization is taking place on a SharedTEAMS development server, this phase occurs before any of the project elements are deployed live.
5) Project Closure Plan
Once your have reviewed the updated site, we make any requested adjustments.
Once all changes are complete, we manage the site migration to the live server, if necessary. If there is an existing site at the live server, a backup is the first step of the site migration.
Once the migration is complete, we check these final details:
Ensure all images, logos, and links transferred correctly.
Update WordPress, plugins, and themes, if necessary.
Test all forms on the live server.
Make sure that all elements using third-party APIs are hooked up correctly.
Double-check contact information throughout the site.
Uncheck the "noindex" option so the site can be found by search engines.
Set up confirmation pages for forms that will capture traffic.
Set up a Google Analytics property.
Set up and verify the site through Google Search Console.
To complete this project, we send you an update with all source files and access details to your WordPress installation and third-party software, as appropriate.
Our team works as a fluid extension of each of our member's businesses by developing strategies and executing projects in whatever capacity is best for their unique needs.