Connect with

Social Media Content
Social media is so much more than Facebook and Instagram. Your social platforms are the perfect place to network with potential customers, influencers, current customers, other businesses, and former customers, all in one place. This is your place to connect, share, reply, and engage with a vast and growing community in real-time. Your options for engagement are continually shifting and becoming more technologically savvy. There are endless ways to provoke engagement with potential customers.
Our Social Media Content Approach
We provide social media content creation and scheduling for your business's top social media pages. We create fresh and engaging content for your followers. This content can target many audience segments and meet them where they are in the buying process. We keep your business pages active, which demonstrates your know-how, company culture, and helps to field any concerns.
JUMP-START with

Social Media STRATEGY
There are many social media platforms and opportunities. Which platforms should your business be on? Which opportunities matter to your audience? How often do they want to hear from you? How do you develop a following and engage your audience? Answer these questions and more with a social media strategy curated for your business. If you are new to social media for your business or need a new approach, we recommend that you start with a new strategy.
Our Social Media Strategy Approach
If your business is new to social media, we recommend which platforms will likely benefit your business the most based on your audience and industry. If you have established social media pages, we curate recommendations for your current pages as well as what other platforms may benefit your business. We provide recommended content topics, content types, post frequency, and more in your social media strategy to provide the basic framework for your ongoing social media efforts.
MAGNIFY YOUR REACH with

Social Media INFLUENCERS
When you want to grow your audience, it can take a long time to build trust with your followers and expand your total reach. By partnering with social media influencers, you gain access to their captive audience while providing them with content ideas that will offer value and entertainment for their fans. This type of partnership can expand your total reach while also helping you build trust with your target audience, meaning that the partnership is mutually beneficial for influencers and brands.
Our Social Media Influencer Approach
We recommend that most modern businesses partner with micro- and nano-influencers to increase their overall reach in an affordable and scalable fashion. This allows you to connect with content creators who are already active in your niche and reach their loyal fans. Our social media team identifies and communicates with influencers on your behalf. We also help you work directly with them to pay for their services through monetary means or free products/services.
SHOWCASE YOUR NARRATIVE

with social media page setup
Having your social media pages set up properly is a small but important piece of your social media program. Your social media pages are the perfect place to share your company story, including why you are in business, who you serve, and how your audience can contact you and learn more about your business.
Our Social Media Page Setup Approach
Your social media pages are your social media foundation. Fleshing out these details is vital before you start sharing posts, Pins, or Stories. When setting up your social media pages, our social media team pinpoints the main details your audience needs to know when they land on your pages. We also curate cover photos, if applicable, and help you decide if a logo or a headshot best represents your brand on social media.
SHARE FRESH CONTENT with

Social Media SCHEDULING
Keeping the content on your various social media pages fresh can be challenging. Using a social media scheduling platform is key to a successful social media program. Scheduling posts allows you to publish content in a timely manner without adding reminders to your calendar.
Our Social Media Scheduling Approach
Our team's approach to scheduling most social media content is in bulk on a consistent basis. This helps keep your pages fresh while leaving room for last-minute changes and additions.
BUILD A COMMUNITY WITH

social media GROUP MANAGEMENT
As the social media landscape changes, groups are becoming important places to reach and connect with your audience. Whether you want to build a community to better serve your audience or to have a unique space for your biggest fans to connect and collaborate, social media groups can help get your brand front and center on platforms like Facebook and LinkedIn. This is a more personal approach to social media.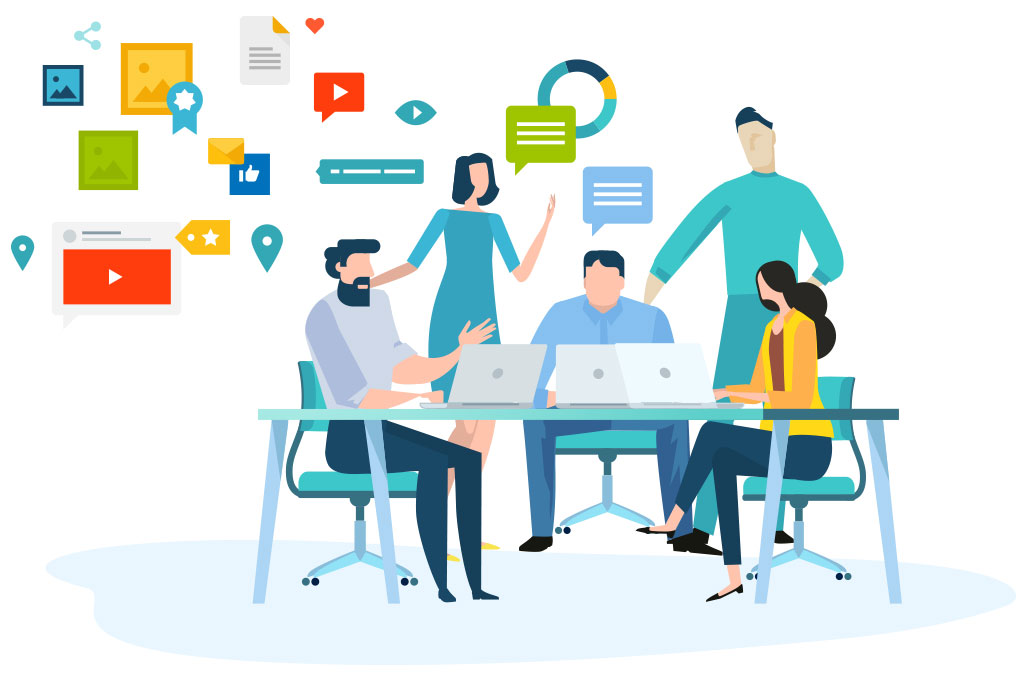 Our Social Media Group Management Approach
When it comes to social media groups, we recommend creating a group on your favorite platform as well as joining other groups in your related industry. We manage your group posts, monitor and respond to comments, and invite people to join your groups on your behalf. We recommend starting small and scaling these efforts over time. While we can manage your groups and group involvement for you, we recommend that you also participate.
BUILD YOUR PRESENCE WITH

media OUTREACH
Media Outreach is the process of pitching story ideas and news releases to journalists, bloggers, and media outlets. This process includes identifying the right publications and writers that would be interested in sharing your stories, curating messages specific to each writer or editor, and contacting those publications and writers. It's important to identify publications and writers who already reach your audience and share content that aligns with your brand and content style.
Our Media Outreach Approach
When it comes to Media Outreach, we recommend incorporating Media Relations for a personal, dynamic approach. After all, media personnel are more likely to write about your brand and publish your news releases when they have a relationship with you. That's why our Media Outreach approach is so closely tied to your Social Media program – many relationships brands build with the media start on social.
DEVELOP RELATIONSHIPS with

MEDIA RELATIONS
Media Relations is all about building relationships with the press and other media personnel. The goal is to establish relationships before pitching stories. This is a long-term strategy that develops relationships over time with the goal of having more of your press releases published and gaining better placement through your Media Outreach efforts.
Our Media Relations Approach
Media Relations is just half of the media equation. First, we develop relationships with media personnel that could benefit your brand in a variety of ways, including by connecting with them on social media, offering them tips, letting them know when they have a typo in an article, providing them with interesting data from your latest research, and more. After the relationship is established, we begin Media Outreach. After all, your stories are more likely to be published if you have an established relationship with the publisher.
Finally, A Social Media Solution Designed for Modern Businesses
Our "shared marketing department" membership provides modern businesses with a marketing team that is aligned with their business goals while providing the flexibility, scalability, and agility necessary to support their unique needs.
Direct Team Access
Our highly-transparent structure allows you to collaborate directly with the specialists on our team who are executing each project.
Strategic Guidance
Collaborate with our specialists to administer strategic guidance or feedback in order to keep your marketing campaigns moving in the right direction.
Project Execution
Whether your business needs a complete hands-off marketing solution or intermittent project support, we're here to help in whatever capacity you need.
We're Skilled With
Social Media Tools
Our social team maintains competency in the most popular modern social media tools. This holistic approach enables our members to leverage our team for support regardless of the tools their current marketing tech stack.

From crafting targeted tweets to YouTube video management and more, a social media manager's skill set spans a wide array of platforms and media types. Take a deep dive into the types of projects that your new social media team can help you with:
Do you have a specific project in mind?
Estimate your total project costs by viewing details and estimates associated with our most common projects.
Articles from Your New Social Media Team
Get to know our social media team through analysis of recent industry news, strategic and tactical insights, and other topics related to social media services through the articles below.
"

With an effective program, your customers will learn about your business, your unique value proposition, and your offerings before finally making a purchase decision.

"
Hannah Gamonez, Social Media Manager
How can we make this go viral? As someone who works in social media, you've heard that phrase before. From managers, coworkers, or your neighbor who owns an Etsy store…no matter where it comes…
As we step into the 2022 year, social media managers are thinking about their strategies and approach for content calendars. Social media is a unique character within the marketing field because it constantly changes….
For the past few years, businesses have shifted social media marketing tactics to accommodate the Millennial generation. They have made efforts to better understand and relate to this generation, and many feel confident about…
It's tax season, which means that it's likely you've heard the scary word "audit" floating around. But don't be alarmed – we're not going to talk about a tax audit today (feel free to…
Delegate To Your Remote Marketing Team
We work as a fluid extension of your team to support your marketing initiatives in whatever capacity you believe is best.