Collateral Package Design
Typical Costs
8 – 12 Hours
Typical Timeline
3 – 5 Days

*Estimate based on the design of one brochure, one flyer, and one business card template.
Your brand's Collateral Package is often the first impression your prospects and customers have of your products or services. A well-designed solution can significantly enhance the perceived value of your offerings and increase your brand awareness.
Visual elements are strategically chosen by the art and design team with regard to the business details outlined in your Member Profile. The final deliverable associated with this project is a print-ready Collateral Package containing a brochure, flyer, and business card template.
Our team takes your Collateral Package Content, either created by our team during a project or created by your team, and designs each piece according to your visual branding. We design a brochure, flyer, and business card template.
All products will be delivered in digital format; they will be ready to send via email and other digital avenues, and may need to be printed before use.
The designed brochure is a branded, tri-fold document that presents itself as a tangible website. It contains light information on your business's elevator pitch, products or services, testimonials, and contact information.
This document acts as a primer to the overall business and can be used in most situations. The final deliverable will be a print-ready, designed PDF.
The designed flyer is a branded, multipurpose, one-page document. It can be a sales sheet that goes into technical detail about your business's offerings and specific instructions on how to get started, which can encourage those who need more detail before making a purchase.
This flyer can also promote an event, provide in-depth details about a new product or service, or perform a similar informative purpose. The final deliverable will be a print-ready, designed PDF.
The designed business cards are branded and created in a template format to be easily edited for individual employees. The final deliverable will be a PDF template.
The collateral package will provide details potential customers are likely seeking about your business and offerings, which includes both broad-stroke and detailed information.
The collateral package contains everything you need to distribute at a local event or convention, which can increase overall success during and after the event by providing information to leads or potential business partners.
Getting the Collateral Package Content professionally drafted according to your business's messaging approach before the design phase can increase the performance of this project.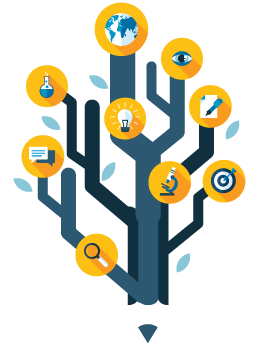 Additional Considerations
Consider the following as you begin this project. Our team is happy to collaborate with you on the best approach.
Do you already have brochure and flyer content prepared for this project?
Do you need to update your current collateral pieces to match a rebrand or other updated branding initiative?
Do you have specific uses in mind for the collateral pieces? E.g. a local event, industry convention, etc.
Tailored To Your Business and Industry
Every brand is different. We believe that marketing should be highly-tailored for each brand. Since our team works with a wide range of industries that targets a variety of audiences across many markets, samples of our team's work will convey an approach that is dramatically different from the approach that we would take for your brand.
We work closely with every new member to document their business' unique visual branding and messaging approach prior to conducting any work.
Click here to learn about our team's industry-specific strategic approach.
Our team will execute this project in defined phases and we will keep you updated on progress within each phase of development, giving you the ability to provide feedback, direction or collaborate with our team throughout every step of the process.
1) Access Coordination and Strategy
During this initial phase, our team reviews the Member Profile, confirms project details, and asks you clarifying questions, if necessary.
We also begin to develop a design approach for the business card based on your business's branding strategy.
2) Initial Project Approach
During the next phase, we finalize the business card design and begin designing the flyer and brochure.
Throughout the design development process, our team ensures each piece is cohesive with your branding overall and with one another.
Our team sends you an update to show project progress and the design approach. We encourage you to give our team feedback during this phase if the design approach does not align with your vision.
3) Project Presentation
If you provided our team with feedback during the previous phase, our team will address those requests in this phase.
Then our team will finalize the design of each collateral piece and review them for readability and even line breaks. Once reviewed, our team will present each piece to you, including the strategic approach for each piece and any updates made since the last phase.
4) Project Closure Plan
Once you have reviewed the collateral pieces, our team makes any requested updates, reviews each piece for readability, and finalizes each piece. Once completed, we present the final pieces and give you access to the files.
Our team provides you with details on how to edit the business card template. Alternatively, our team can edit it for you. Our team can also recommend online printing services to you.
Our team works as a fluid extension of each of our member's businesses by developing strategies and executing projects in whatever capacity is best for their unique needs.