Our team is comprised of highly-qualified marketers to ensure your marketing programs run smoothly. These individual team members constitute our teams: Strategy, Advertising, Social Media, Website Design, Communications, and Graphic Design. These teams work together for one purpose: to support your business's unique marketing needs.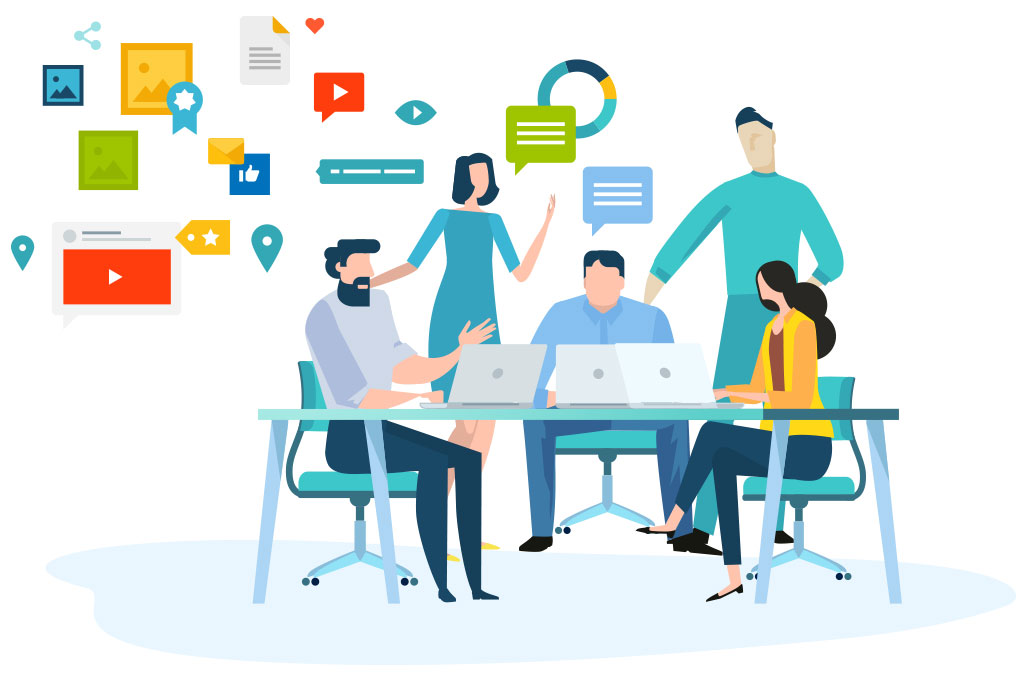 We hire team members based on their specialized skills and experience. Before someone is added to our team, we conduct skills tests for their chosen specialization.
While many people apply to join the SharedTEAMS' teams, only 5% of applicants pass these skill tests.
These high standards for our team members directly benefit your marketing program. We'll only provide you with the best services using the best marketing professionals for each project.
All of our team members have at least 5 years of experience in their specific discipline. Whether a team member is on the Strategy Team, Advertising Team, Social Media Team, Website Design Team, Communications Team, or Graphic Design Team, you can trust that the team members working on your projects have an in-depth background in that area.
We specifically seek out marketing professionals that specialize in one skill set as this provides the best service for your business's marketing needs.
Every project is a collaborative effort between teams with diverse specialization. Our teams collaborate behind the scenes to streamline your member experience.
For example, our Strategy Team provides guidance for all of our project teams, our Communications Team provides content support in most project types, and our Graphic Design Team finishes a variety of projects.
Together, our teams' collaborative processes provide you with the best deliverable for each project.
Over 95% of all project work is executed directly by U.S.- based employees (not contractors) of SharedTEAMS with highly-vetted contractors used for specialized technical support.
Just like our members, our employees are geographically diverse with team members spread all across the United States.
Each of our team members conducts thorough training before they begin project work to ensure that that work is efficient and impactful.
Once they begin project work, they continue their training on an ongoing basis to ensure they utilize the current best practices for their discipline.
All project work is directly overseen by team managers who have 10+ years of experience. Managers supervise project work related to their specialization and provide guidance for our team within that discipline.
Our managers continue to work directly on projects, too, to maintain their proficiency within their specialization. This helps our managers maintain a hands-on approach to their unique roles.
ONE MEMBERSHIP, SIX TEAMS
With a SharedTEAMS membership, you have the opportunity to work with all of our marketing teams. In each project, you can trust that the top personnel on our teams will be working on your behalf.
collaborate with our teams
As a SharedTEAMS member, you have the opportunity to collaborate with our teams on your own schedule. As you collaborate with our team, you can expect to communicate with different team members involved in your projects.
Christofer Thomas
Production Manager
Christofer provides technical guidance and design support within projects to ensure that campaigns run smoothly and efficiently.
Learn more about Christofer by visiting his LinkedIn profile.
Samantha Gould
Marketing Manager
Samantha works closely with each of our teams to ensure that projects are well-coordinated and properly aligned with each member's strategy.
Learn more about Samantha by visiting her LinkedIn profile.
Rebecca Shelby
Membership Manager
Rebecca works closely with each of our members to guide their marketing program and ensure that they are getting the most out of membership.
Learn more about Rebecca by visiting her LinkedIn profile.
Alex Roy
Website Manager
With years of hands-on experience, Alex leads the direction of our member's website design and technical programs.
Jessica Eschbach
Communications Manager
Jessica's background in content marketing, business communications, and copywriting provides a strong foundation for her role as our communications manager.
Learn more about Jessica by visiting her LinkedIn profile.
Tim Alesio
Advertising Manager
Tim uses his vast experience in audience targeting to lead the strategic direction, setup, and ongoing management of our member's advertising campaigns.
Learn more about Tim by visiting his LinkedIn profile.
Hannah Gamonez
Social Media Manager
Hannah uses her broad marketing experience to guide the strategy and execution of our member's social media programs.
Learn more about Hannah by visiting her LinkedIn profile.
David Lanagan
Director
David helps maintain a positive and productive environment for SharedTEAMS by managing our team's systems and processes.
Learn more about David by visiting his LinkedIn profile.
Modern Collaboration tools
Part of what makes our flexible membership structure possible is our commitment to efficient collaboration. Our members collaborate with our team using a process that involves few scheduled meetings while utilizing our custom online collaboration platform. 
Delegate To Your Remote Marketing Team
We work as a fluid extension of your team to support your marketing initiatives in whatever capacity you believe is best.