Typical Costs
2 – 3 Hours
Typical Timeline
1 – 2 Days

Based on content for a single 500 – 700 word page
Website content is the foundation of every website. Before a beautiful website design and intuitive navigation can be built, the content needs to be in place.
A Website Content project develops the necessary content for all base website pages, from the Home page to the Product or Services page, and from the About Us page to the Contact page.
This project involves the complete ground-up build-out of the company website with a focus on establishing an effective foundation for marketing campaigns and communications programs. The content on a website helps establish the website as an effective marketing vehicle.
Our team develops a sitemap (structural outline) with a focus on user experience and the customer journey. Then, all site content is developed page-by-page in accordance with the sitemap using your Brand Positioning and Messaging guidelines within your Member Profile.
We also conduct keyword research to identify keywords with the highest opportunity that will assist on-page SEO in the future. The final website content will be presented in a Google DOC format.
Please note Website Content does not include Blog Articles content. Website content typically comes before blog content, though both can be created simultaneously.
Website content helps increase conversion rates on your final website while conveying your brand messaging accurately and effectively. Website content will help increase conversions because it will be organized according to the customer journey.
Website content showcases your key differentiators and unique value proposition. Website content is a foundation for your website, which will serve as an effective base for marketing, advertising, and communications programs.
Getting the website content professionally designed according to your business's visual branding strategy and best SEO practices can increase the performance of this project.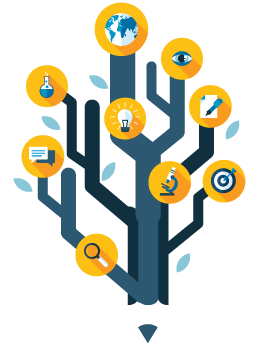 Additional Considerations
Consider the following as you begin this project. Our team is happy to collaborate with you on the best approach.
Do you have specific audience targets for this website?
Do you have a general structure you want for your website? This will determine what content needs to be developed.
Do you want to use content from your previous website?
Do you have testimonials you want to add to the website content?
Do you have specific terms or phrases that you would like to use or avoid?
Tailored To Your Business and Industry
Every brand is different. We believe that marketing should be highly-tailored for each brand. Since our team works with a wide range of industries that targets a variety of audiences across many markets, samples of our team's work will convey an approach that is dramatically different from the approach that we would take for your brand.
We work closely with every new member to document their business' unique visual branding and messaging approach prior to conducting any work.
Click here to learn about our team's industry-specific strategic approach.
Our team will execute this project in defined phases and we will keep you updated on progress within each phase of development, giving you the ability to provide feedback, direction or collaborate with our team throughout every step of the process.
1) Access Coordination and Strategy
During this initial phase, we review your Member Profile, confirm project details, and ask you clarifying questions, if necessary. If you have an old website, we may review it and pull some content from it, as appropriate.
Our team will also begin developing the sitemap based on the customer journey, business needs, competitive research, and best practices.
2) Initial Project Approach
During the next phase, our team finalizes the sitemap details and creates a presentation for you describing the strategic approach behind the sitemap. We encourage feedback on the sitemap before we move on to the next phase.
3) Project Production & Control
After the sitemap is finalized, we conduct research to identify keywords with the highest opportunity that will assist on-page SEO in the future; we will add these keywords to the Messaging page in your Member Profile.
Our team begins curating the website content according to the sitemap while incorporating the keywords, as appropriate.
For projects with a cost of 15 hours or more, we will send you an update when we've created about half of the website content so you can view the draft and monitor project progress.
4) Project Presentation
Our team finalizes the website content according to the sitemap. After a final review by our team – which includes editing and reviewing content for flow, grammar, punctuation, and spelling accuracy – we present the drafts to you in a comprehensive update. We encourage feedback on the website content before we complete this project.
5) Project Closure Plan
Once you have had time to review the website content, we make any requested adjustments and review the updated sections for flow, grammar, punctuation, and spelling accuracy. Once finalized, we send you an update with the final content.
At the completion of the Website Content project, we typically transition it to a Website Design project if you would like our team to design the website with SEO and design best practices.
Our team works as a fluid extension of each of our member's businesses by developing strategies and executing projects in whatever capacity is best for their unique needs.