Collateral Package Content
Typical Costs
6 – 8 Hours
Typical Timeline
3 – 5 Days

Estimate based on developing content for one brochure, one flyer, and one business card template.
A collateral package is vital for many businesses, especially brick-and-mortar businesses where employees work directly with clients and online businesses where employees attend events where collateral is needed to network.
The collateral of your brand is often the first impression of your business's products or services.
A well-designed solution can significantly enhance the perceived value of your offering and increase your brand awareness. Each piece of collateral plays an important role and is a part of a bigger picture.
Collateral package content, specifically, conveys the important details of your business to your prospects and potential collaborators alike. It informs the reader in a quick, easy-to-read fashion.
A Collateral Package Content project gives the brochure, business cards, and flyer a unified message for your brand. Plus, it informs the recipient what action they can take, how to take it, and how to contact you for more information.
Our team writes content for three pieces of collateral: a brochure, business cards, and a flyer.
The brochure content will include enough details for a tri-fold brochure. It will contain light information on the business's elevator pitch, products or services, and contact information, as well as testimonials, if appropriate. This document acts as a primer to the overall company and can be used in most situations.
The business card content will include your name, business name, contact information, website, and a slogan or other business details, as appropriate.
Please note the designed business card template, created in the Collateral Package Design project, will be an editable template utilizing these details, so it is only necessary to have contact information for one employee.
The flyer is a multipurpose, one-page document. It can be a sales sheet that goes into technical detail about the company offerings and specific instructions on how to get started, which can encourage those who need more detail before making a purchase.
This flyer can also promote an event, provide in-depth details about a new product or service, or perform a similar informative purpose.
The final collateral package content will be presented in Google DOC format.
Each piece of collateral within the package helps establish credibility, not only for your business as a whole but also for your role in the business. The collateral content will provide key information a prospective customer or collaborator may be seeking in almost any situation.
Getting the collateral package content professionally designed according to your business's visual branding can increase the performance of this project.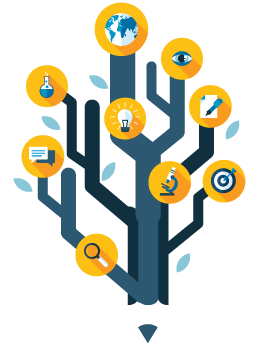 Additional Considerations
Consider the following as you begin this project. Our team is happy to collaborate with you on the best approach.
Do you have specific audience targets for the brochure?
Do you have a general idea of what you want your brochure content to include?
Do you have a specific purpose for the flyer, such as to promote a new offering or event, or to act as a sales sheet?
Will the completed brochure, flyer, and business cards be presented at a specific event or will they be used for general purposes?
Is there a specific question your customers often ask or a problem your customers often have that could be answered in brochure or flyer content?
Tailored To Your Business and Industry
Every brand is different. We believe that marketing should be highly-tailored for each brand. Since our team works with a wide range of industries that targets a variety of audiences across many markets, samples of our team's work will convey an approach that is dramatically different from the approach that we would take for your brand.
We work closely with every new member to document their business' unique visual branding and messaging approach prior to conducting any work.
Click here to learn about our team's industry-specific strategic approach.
Our team will execute this project in defined phases and we will keep you updated on progress within each phase of development, giving you the ability to provide feedback, direction or collaborate with our team throughout every step of the process.
1) Access Coordination and Strategy
During this initial phase, we review your Member Profile and confirm the project details with you.
Our team will also begin developing a strategic approach for the brochure and flyer content according to your audience targets for both pieces.
2) Initial Project Approach
During the next phase, our team finalizes the strategic approach for the brochure content and flyer content. We ensure that the brochure content outline includes your business's elevator pitch, products or services, and contact information, as well as testimonials, if appropriate. We also begin drafting flyer content and business card content.
We present the strategic approach that will be used to create the brochure and flyer content to you. We encourage you to give our team feedback during this phase.
3) Project Presentation
If you provided our team with feedback during the previous phase, our team will address those requests in this phase.
Then our team writes the collateral package content, including the brochure content, business card content, and flyer content. Content is written according to the your messaging guidelines.
The brochure's front cover content is typically short, active, enticing, and clear to anyone. The business card content typically includes your name, business name, contact information, website, and slogan or other business details. The flyer content typically focuses on one purpose. Each piece of content typically includes contact information, address and/or website, and a clear CTA.
Once the content is completed, our team reviews it, checking for flow, grammar, punctuation, and spelling accuracy. Then we present the drafts to you.
4) Project Closure Plan
Once you have had time to review the collateral content, our team makes any requested updates and finalizes the collateral content, reviewing the updated sections for flow, grammar, punctuation, and spelling accuracy. We also send you the final content.
At the completion of the Collateral Package Content project, we typically transition it to a Collateral Package Design project if you would like our team to design the collateral in a printable and shareable format that is on-brand.
Our team works as a fluid extension of each of our member's businesses by developing strategies and executing projects in whatever capacity is best for their unique needs.