Modern Advertising
for Small Businesses
Our advertising team develops and manages advertising campaigns using advanced audience targeting and tailored messaging.
Scale-Up with

Search Advertising
Search engine's keyword and location targeting features provide a powerful digital advertising service that has allowed small businesses to compete directly with their larger counterparts in a completely scalable and low-risk capacity. Today, small businesses are spending over five times more on digital advertising than they are on "traditional" ad placement. If you are looking for a modern, data-driven marketing program, we recommend that you start by exploring search advertising.
Our Search Advertising Approach
One of the most powerful features of search advertising is the ability to track leads and conversions directly, giving you the ability to start with a very limited budget and increase your investment only as you begin to see a positive ROI. Our advertising team directs our members' advertising programs to ensure limited waste while maximizing impact.
Target with

Social Advertising
Your potential customers will already be on social media platforms, so putting ads in front of them is noninvasive. In fact, with the prevalence of "buy now" buttons on platforms like Instagram and Pinterest, it's never been easier to target potential leads that are already looking for what you do and offer.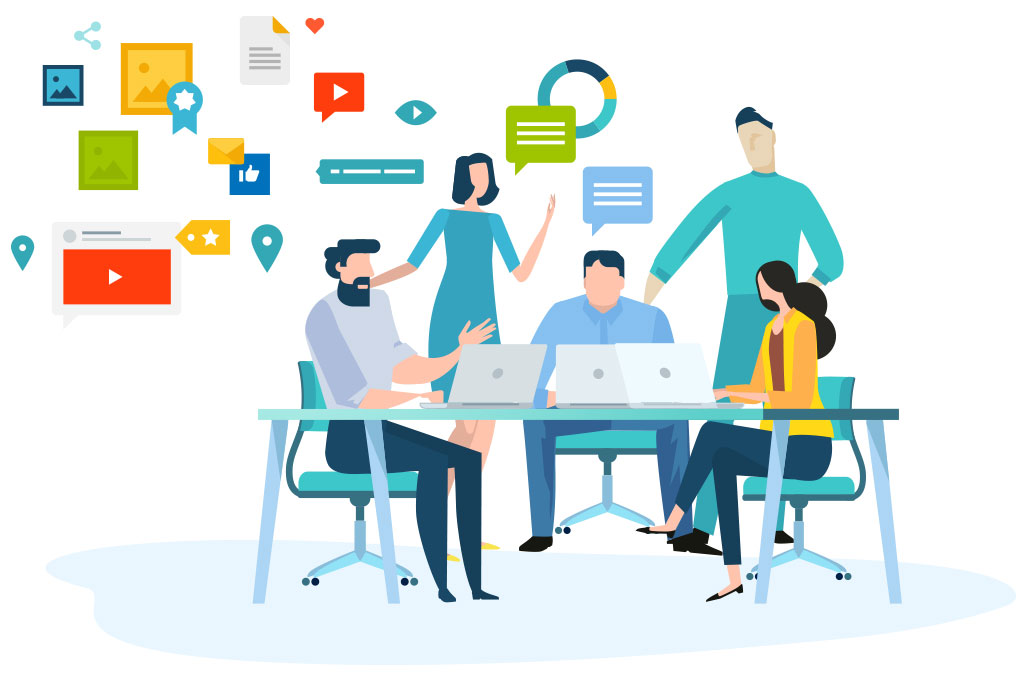 Our Social Advertising Approach
Social media platforms currently have some of the best interest-based targeting and retargeting solutions available for digital marketers. Our team uses these tools to target very narrow audience segments based on performance data and create high ROI campaigns for our members.
Breakthrough with

Display Advertising
Display advertising is commonly in the form of banners, landing pages, and popups. When potential customers read in those formats, those display ads will surround the content. If a viewer is interested, they can click on your ad and be brought to your website.
Our Display Advertising Approach
We don't just advertise. We target. Display advertising is far more than just putting out an ad into the digital stratosphere and hoping for the best. In fact, a lot of time and money is wasted by improper use of display ads. Our digital advertising team creates carefully targeted advertising campaigns that are not only intended to reach those truly interested in your offerings, but also to turn those visitors into leads and sales.
Sustain with

Retargeting Campaigns
Website visitors get distracted. In fact, it can take many visits back to your website and social media before a decision is made by a customer. Retargeting connects with those visitors after they have left your website to keep them engaged with your brand and guide them through your marketing funnel. Retargeting is also creates the perception of wide brand exposure, serving as an effective brand awareness and reputation management tool.
Our Retargeting Approach
Aside from carefully researching audience and interest groups for retargeting campaigns, our team puts extra effort into creating ads that present the product or service in a brand-consistent with a focus on helping the audience progress to the next stage in the marketing funnel.
Connect with

Print Advertising
Despite the feeling that we are surrounded primarily by digital advertising, print advertising is alive, well, and often necessary. Our highly experienced and enthusiastic print designers are well-versed in every aspect of their trade. From brochures and magazine ads to billboards and signage, we will deliver a high-quality product every time.
Our Print Advertising Approach
Print advertising comes with its own set of challenges, completely separate from those of the world of digital advertising. Our advertising team is well-versed in identifying the most suitable placement, messaging, and design to reach your target audience. We are also prepared to help work with your print vendor to deliver a high-quality product on time and on budget.
Finally, A Comprehensive Advertising Solution Truly Designed for Small Businesses
Our "shared marketing department" membership provides small businesses with a marketing team that is aligned with their business goals while providing the flexibility, scalability, and agility necessary to support their unique needs.
Direct Team Access
Our highly-transparent structure allows you to collaborate directly with the specialists on our team who are executing each project.
Strategic Guidance
Collaborate with our specialists to provide the strategic guidance or feedback that you need to keep your marketing campaigns moving in the right direction.
Project Execution
Whether your business needs a complete hands-off marketing solution or sporadic project support, we're here to help in whatever capacity you assign.
Membership starts at just $250 monthly and we offer a 14-day money back guarantee to help ensure a good fit. 
Articles from Your New Advertising Team
Get to know our advertising team through analysis of recent industry news, strategic and tactical insights, and other topics related to digital advertising through the articles below.
"

we provide carefully targeted advertising campaigns that are not only intended to reach those truly interested in your business but also turns those visitors into leads.

"
Anthony Querol, Advertising Team Manager
Multichannel marketing is here. Startups and small businesses can't get away with single-tactic marketing any longer. Gone are the days when referrals were enough. Gone are the days where it was enough to have a…
Digital marketing for local startups brings its own share of challenges and advantages. Thanks to technology and easy communications, getting started on your major goals is just as easy to do wherever you are. Your…
Membership includes a 14-day risk free money back guarantee and instant access to the SharedTEAMS online office to begin assigning tasks to your new marketing team today. We're looking forward to working with you.

Supporting Small Businesses Across all 50 States
A Shared Marketing Department
Designed for Small Businesses

Copyright @ 2010 – 2019 SharedTEAMS, LLC. All Rights Reserved.