Typical Costs
1 – 3 Hours
Typical Timeline
Recurring (Monthly Updates)
In order to determine the effectiveness of your various website marketing projects, it is important to set up website tracking. This helps to determine whether or not the existing marketing efforts need to be adjusted in order to produce better results or reduce costs.
We use Google Analytics, Google Tag Manager, and Google Search Console as our primary tracking and analysis tools. We will set up connections between your various marketing channels to determine if there is a weakness in any part of the online customer journey.
We then report back with analysis reports and make recommendations for better performance throughout your various marketing programs, and to improve your overall website marketing funnel.
Our team manages the full scope of this project. During the first week of this project, our team will coordinate any necessary access and/or permissions for your website and Google business account.
We will set up Google Analytics on your website, and register your site with Google Search Console.
Once Google Analytics and Search Console have been set up and are tracking correctly, we will use Google Tag Manager to set up specific goals on your website, including on-site events, such as downloads or pageviews, as well as tracking tags for existing social media accounts, such as Facebook.
Once we have begun to collect traffic data, our team will report back to you with traffic analysis and goal reports as well as recommendations for possible improvements.
Actively tracking your website traffic and referral services gives you the ability to understand the effectiveness and ROI of your marketing programs.
If you have a clear understanding of what is and is not working, you then have the ability to make necessary adjustments to improve your process, increase conversions and leads, and gradually improve your ROI on your digital advertising programs, SEO, and other marketing efforts. This project helps improve all of your other marketing efforts.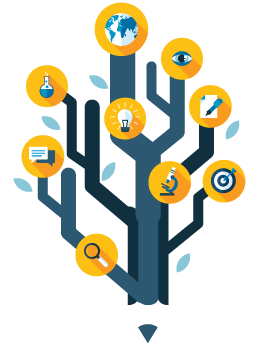 Additional Considerations
Consider the following as you begin this project. Our team is happy to collaborate with you on the best approach.
Do you have a Google Analytics account?
Do you have social media accounts already set up?
Do you want to increase website traffic, increase sales, improve user experience, increase newsletter sign-ups, or improve the site design or speed?
Do you want to improve social media campaign performance, improve digital advertising performance, increase website events (e.g. download, button clicks, video views, etc.), or improve cross-domain tracking (i.e. from one website to another)?
Tailored To Your Business and Industry
Every brand is different. We believe that marketing should be highly-tailored for each brand. Since our team works with a wide range of industries that targets a variety of audiences across many markets, samples of our team's work will convey an approach that is dramatically different from the approach that we would take for your brand.
We work closely with every new member to document their business' unique visual branding and messaging approach prior to conducting any work.
Click here to learn about our team's industry-specific strategic approach.
Our team will execute this project in defined phases and we will keep you updated on progress within each phase of development, giving you the ability to provide feedback, direction or collaborate with our team throughout every step of the process.
1) Access Coordination and Strategy
During this initial phase, our team reviews your Member Profile, project details, and your goals for this project. If you don't have specific goals for this project, we recommend using your industry-specific marketing strategy to develop your goals.
We will confirm all of the necessary access information to set up tracking for your website, including Google and social media accounts. If no Google account exists, or if you prefer to set up your tracking through our SharedTEAMS account, we will confirm those details at this point.
2) Strategic Program Overview
During the next phase, our team sets up website tracking and analyzes the current status of your general website traffic as related to your goals.
We typically set up a Google Analytics tracking code on the site, Google Search Console, and Google Tag Manager. For Tag Manager, we set up tags related to your requests or recommended goal tracking.
We send you an update including all details as to what is being tracked, accounts that have been set up for the process, an initial general traffic analysis related to your goals, our recommendations to improve traffic, and what to expect in the following monthly reports.
3) Recurring Monthly Updates
On a monthly basis, we send you a report containing updates on all traffic and goals we're tracking as well as a list of recommendations to improve conversions, social media traffic, newsletter sign-ups, and any other goals that are being tracked.
Our team will create project recommendations for updates that require changes to your website, calls to action, digital advertising campaigns, SEO, or any other change that we believe will improve your website and overall marketing performance.
Our team works as a fluid extension of each of our member's businesses by developing strategies and executing projects in whatever capacity is best for their unique needs.
Direct Access To your Remote Marketing Team
We work as a fluid extension of your team to support your marketing initiatives in whatever capacity you believe is best.