Our team drafts content for and designs an ebook for your business. This project typically includes 1 ebook with an average of 2,000 words, but we customize this project based on your needs.
We research topics that your audience is seeking out and then draft content to provide value to your audience while positioning you as the expert. The ebook ends with a call to action to buy your products or services.
For this project, our team determines a valuable topic for your audience targets, researches the topic (which may include your resources, if any), drafts content for the ebook, and designs the ebook according to your visual branding guidelines.
The content of the ebook includes valuable information and entertainment for your audience, which is written according to your messaging guidelines.
The ebook will include information on how they can further their education by visiting your website or blog, what products or services would best serve their needs as related to the ebook content, and contact details for your business should they decide to purchase.
Each ebook we design is unique because we combine the content, your visual branding, your intended audience details, and more to develop the design.
The final deliverable is a PDF.
A well-produced ebook can be used as a means to capture email leads (i.e. lead magnet) through your website. This is an opportunity for you to collect a list of qualified leads to engage through your email marketing efforts, including your sequenced email campaigns and newsletters. For more ideas on what kind of lead magnet to create for your audience, check out the best practices for your industry.
By helping prospects convert through your free lead magnet, they get a glimpse of what they can expect as a paying customer.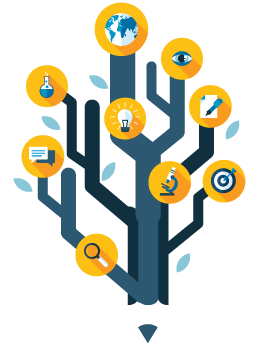 Additional Considerations
Consider the following as you begin this project. Our team is happy to collaborate with you on the best approach.
Do you have a specific goal for this ebook?
Do you have a topic in mind for this ebook?
Do you have specific audience targets for this ebook?
Is there a specific question your customers often ask or a problem your customers often have that could be answered in an ebook rather than a blog post or product/services page?
Do you want to use an alternative format instead of an ebook? E.g. white paper, case study, cheat sheet, infographic, etc.
Will the ebook be gated for use as a lead magnet? ("Gated" means you will require an email address to access the ebook.)
Tailored To Your Business and Industry
Every brand is different. We believe that marketing should be highly-tailored for each brand. Since our team works with a wide range of industries that targets a variety of audiences across many markets, samples of our team's work will convey an approach that is dramatically different from the approach that we would take for your brand.
We work closely with every new member to document their business' unique visual branding and messaging approach prior to conducting any work.
Click here to learn about our team's industry-specific strategic approach.
Our team will execute this project in defined phases and we will keep you updated on progress within each phase of development, giving you the ability to provide feedback, direction or collaborate with our team throughout every step of the process.
1) Content Strategy
During this initial phase, our Communications Team reviews your Member Profile, confirms project details and goals with you, including whether you want to use an ebook format or another format, such as a white paper, case study, cheat sheet, infographic, etc.
We also develop and present the strategic approach by choosing a topic that will be valuable to your audience targets. Our Communications Team starts conducting research on the main topic and shares the resources that we will use to create the content, if appropriate.
We encourage you to give our team feedback during this phase.
2) Content Presentation
During the next phase, our Communications Team drafts the ebook content according to your messaging guidelines.
If you provided our team with feedback during the previous phase, our team will address those requests in this phase.
Ebook content typically includes valuable information and entertainment for your audience; details about products or services, as appropriate; contact information for your business; and a clear call to action. Ebooks may include a table of contents at the beginning of the content.
To complete this phase, our team will finalize the ebook content, which includes editing and a final review. Once reviewed, our team presents the ebook content draft in a Google DOC.
We encourage your feedback on the content before we move to the design phases of this project, but we can also make content changes during the design phases.
3) Design Strategy
During this phase, our Graphic Design Team reviews the Member Profile and confirms project details. We also develop the strategic approach for the design of the ebook based on your business's branding strategy.
4) Design Presentation
During this phase, our team will finalize the design of the ebook and optimize it for readability. Once reviewed, our team will present the designed ebook to you.
Ebooks are presented in both PDF and JPG format.
5) Project Closure Plan
Once you have reviewed the ebook draft, our team makes any requested updates, reviews it for readability, and finalizes it. Once completed, we present the final ebook to you.
If the ebook will be used as a lead magnet, we typically implement it in a separate project, such as a Sequenced Email Campaign or Web Page Design.
Delegate To Your Remote Marketing Team
We work as a fluid extension of your team to support your marketing initiatives in whatever capacity you believe is best.