WordPress is undoubtedly one of the best platforms to allow you flexibility and control over your website. With a whole community of developers, it is easy to add almost any functionality you could possibly need to your site, without needing to know how to write a single line of code.
However, that kind of access to functionality from so many different sources comes with its own set of problems. The number of sites that get hacked every day is staggering, typically in the hundreds of thousands. It is crucial that your website can withstand malicious activity. After all, failure to back up your site regularly and to monitor for these types of attacks could result in dozens of hours working on a fix, or worse yet, a complete loss of data.
Business costs are rising, due to inflation as well as labor and supply shortages. An expensive breach or data loss event can set your company back again after we are only just beginning to recover from the worst of the COVID pandemic.
In light of this, we have put together a list of some of our top choice plugins to help enhance your WordPress security program. From scanning and repair to monitoring, IP blocking, and advanced notification systems, any of these plugins offer a safety net that you can feel good about. Most of these options have a free version, though many also offer pro or upgraded packages for a fee. Let's get started…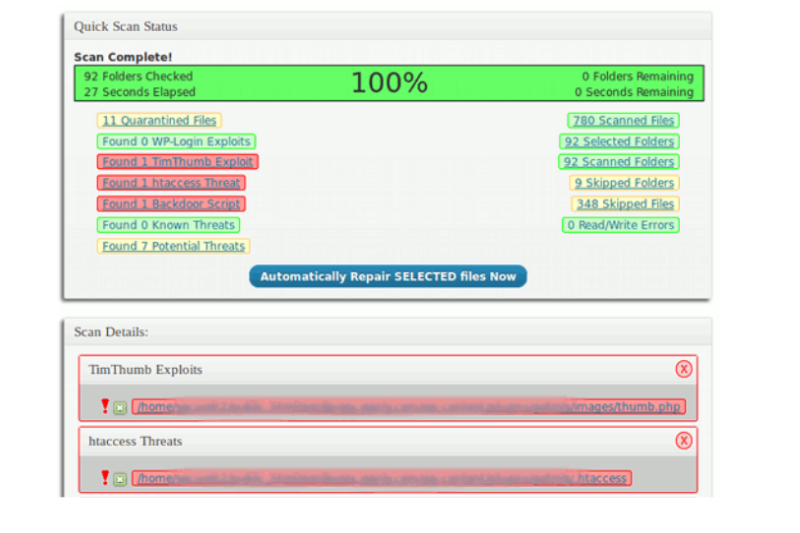 Cost: FREE
With more than 200,000 downloads, this 5-star plugin is a little lesser known but remains one of our favorites regardless. Anti-Malware Security and Brute-Force Firewall is one of the most effective plugins when it comes to quickly scanning your site for malware, backdoor scripts, and database injections.
The plugin has an "auto-fix" option. It allows you to resolve most issues with the click of a button and has worked for us around 90% of the time for years. Of course, you will always want to be sure to back up your files before you begin, as with any other WordPress site security work.
This plugin is a consistently high-performing safety net for your WordPress accounts. And if you know anything about IT or cybersecurity, you know that threats evolve rapidly. The nature of this field means there are few tools that can be considered a sure thing, and even fewer tools that perform this well over a period of years.
There are some caveats, though.
You must download new definitions regularly in order to ensure that you're protecting your site against the latest and greatest threats. Premium features include:
wp-login patching to block Brute-Force and DDoS attacks

WordPress core files integrity check

automatic download of new definition updates when running a complete site scan.
It is required that you register the plugin at gotmls.net in order to receive all of the newest definitions, which can easily be done through the plugin interface.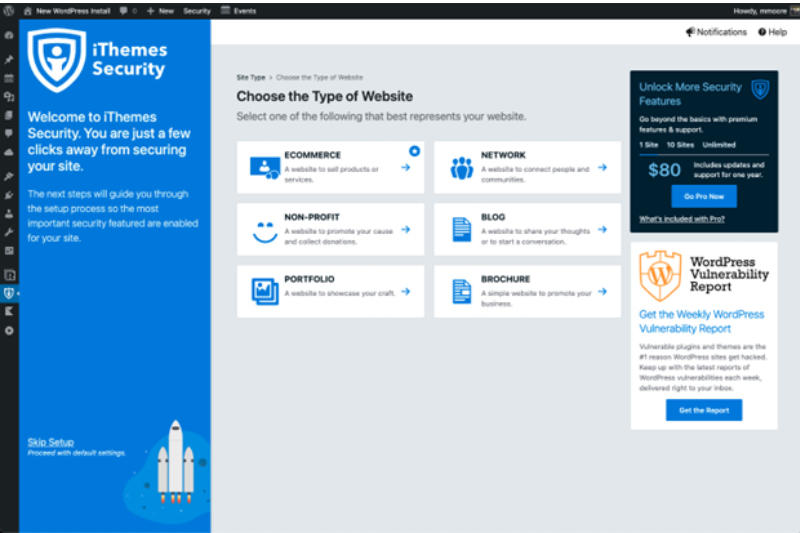 Cost: FREE, with optional paid plans
The iThemes Security plugin is extremely popular, with over a million installations currently. Though there is a cost associated with some of the better features of this plugin, the developers definitely deliver on free features, too. Its description even promotes the idea that its security setup and onboarding experience "is designed to allow anyone to secure their WordPress site in under 10 minutes."
Some out-of-the-box features include the ability to force strong passwords for users, to force SSL on all pages, and a site scan powered by Securi. If your site does end up with a vulnerability, the plugin will also prevent the admin from editing files directly through the dashboard. iThemes also allows you to change your database prefix to prevent bots and spiders.
There are 6 iThemes Security Site Templates you can quickly apply to your site, based on your needs:
Ecommerce: for all sites selling products or services

Network: websites used for connecting people with specific groups and communities

Non-profit: sites for sharing your cause and collecting donations

Blog: websites used to share your insights or spark ideas and discussions

Portfolio: sites where you showcase your work, whatever it may be

Brochure: simple promotional websites for your business
iThemes Security Pro is where the real security features are stored, starting at $80 per year. By setting up Pro, you'll be able to employ two-factor authentication, daily scans, online core file comparisons, GeoIP, and more. The plugin offers a well-designed, comfortable, and easy-to-use interface that beginners will understand. iThemes also has tons of well-organized documentation and video tutorials.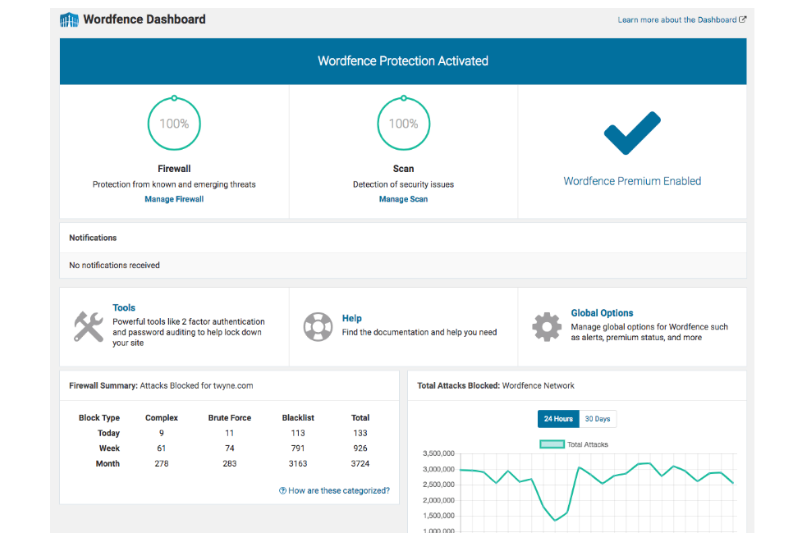 Cost: FREE, with optional paid plans
Wordfence is undoubtedly one of the most popular security plugins to date for WordPress, with over 4 million downloads.
The plugin has an excellent notification system that will let you know as soon as it detects a threat, vulnerability, or corrupted file. It will perform audits of your core files, plugins, theme files, posts, and comments. This plugin also offers spam protection.
If a vulnerability is found, the plugin will not offer repair or restoration for corrupted files. However, it will show you how the file has been changed to help you make the repair manually.
Wordfence will allow you to limit login attempts to prevent brute-force attacks and live monitoring. This lets you know exactly who or what (including bots) is visiting your site. Malicious attempts on the site are reported in real-time. Premium features include comment spam filters, two-factor authentication, country blocking, and ongoing customer support.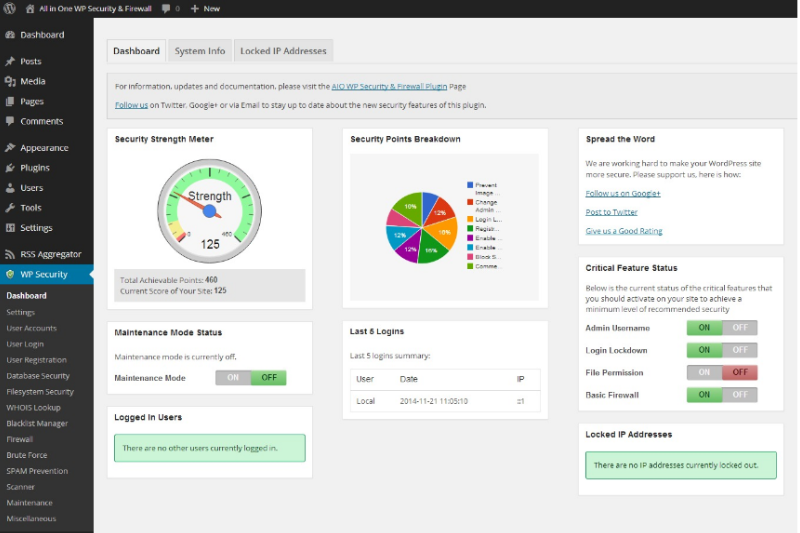 Cost: FREE
All in One WP Security & Firewall is another free security plugin that packs a punch. Though the interface is a tad dated compared to other security plugins, the plugin offers a plethora of useful features to help keep your site secure including malware and vulnerability scanning, login protection, comment spam protection, user monitoring, database backups, a firewall, and more, all at ZERO COST.
It can even detect if a default "admin" username is present and prompts you to change it, as well as detect user accounts with identical login and display names and offers a password strength tool.
Easy for beginners to understand and set up, the plugin will allow you to back up and restore faulty .htaccess and .wp-config files, blacklist specific users, and includes the full array of features without any upsells. If you're on a budget, this is an excellent choice for your ongoing website security.
You can see the extensive list of features this plugin offers at this WordPress link.
Cost: FREE, with Pro Plan starting at $7.50/month
Lastly, we wanted to discuss Defender, which is part of the WPMU Dev Suite. Defender can be purchased and installed individually, or as part of the MPMU Dev Dashboard. The plugin has a modern interface that is user-friendly and easy to understand for beginners.
The free version of Defender provides your site with two-factor authentication, malware scans, brute force protection, threat and vulnerability notifications, firewall, and IP blocking.
Upgrading to Defender Pro will unlock advanced features. These features include automation of scanning, one-click resolve, Google authenticator integration, 2FA user roles, Biometric Authentication, reporting, one-click auto-reset of all user passwords, and more. The pricing is scalable based on the number of sites you want to set up through the dashboard. If you're looking to spend a little bit of money for some extra control and quality visibility into your site's security, Defender Pro is an excellent choice.
The plugin also offers several helpful and hands-on tutorials, from how to delete suspicious code to creating a customized firewall with Defender. You can find the tutorials at this link.
A Little Effort Goes a Long Way
All of the WordPress security program plugins in this article are easy to use, and some of them offer a high level of security at no cost to you. Implementing a security plugin can offer peace of mind and possibly save you a heap of cash when it comes to the cost of fixing an attack and possible losses in revenue. Trust us when we say that it's worth a couple of hours to get a basic level of security in place for your website.
Take it a step further with a monthly Website Maintenance project with SharedTEAMS.
Your web team will manually review your website on a monthly basis, ensuring that your plugins, themes, and core website files are up-to-date and fortified against the latest malware. And we'll also put a set of human eyes on your pages to make sure that everything is functioning and appearing as it should. Your website is an asset to your business that deserves to be protected.