Typical Costs
35 – 45 Hours
Typical Timeline
10 – 15 Days

The Website Production project involves the complete ground-up build-out of the company website with a focus on establishing an effective foundation for marketing campaigns and communications programs.
The project is intended to provide you with a website that is optimized for on-page SEO and can be used as an effective marketing vehicle for your business.
Our focus areas are the implementation of a strong marketing funnel for your different target audiences, professional content development, and a strong foundational design centered around optimal user experience.
Our team completes a full website production, building and designing an entirely new website.
Using your Member Profile, sitemap, and website content, we design your site with the intention of using it as a foundation for future marketing initiatives.
We will typically create webpages for your core audience groups and products or services in order to personalize your users' experience. This helps to maximize conversion rates as well as generate leads for your business and ensures you the best possible ROI on your advertising efforts.
Your new website will likely be produced using the WordPress CMS on our development server.
Your website will act as a marketing vehicle for all advertising efforts, driving targeted traffic to the areas of your site that will make the most sense to them, which helps optimize your advertising efforts.
A heavy focus is placed on user experience and designing your site pages and architecture in a way that is easily and quickly understood to avoid traffic drop-offs. On-page SEO best practices are used throughout the design of your site to ensure that it is visible to search engines and in compliance with organic search standards.
The use of landing pages provides a platform for you to speak directly and individually to your target groups, providing them with an experience that will maximize the potential for conversions, lead generation, and sales.
Having your website content developed with SEO and the customer experience in mind before beginning this project can increase the performance of this project. Our Website Content project includes creating your sitemap, which will streamline the website design process.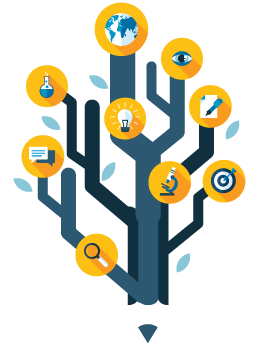 Additional Considerations
Consider the following as you begin this project. Our team is happy to collaborate with you on the best approach.
Do you already have a domain? Do you have hosting and web services (email marketing service, plugins, etc.) accounts?
Do you prefer a minimalist or bold layout?
Do you prefer a full-width or narrow layout (with or without margins)?
Do you currently use a CRM that will need to be integrated with your site forms to collect customer information?
Will your site offer "members-only" content that will require a user to have an account to access?
Will your site need to collect payment for products or services?
If you are using your site to sell products, about how many products will be sold through your site?
Will your site require a Learning Management System (LMS) or will you offer courses or quizzes?
Tailored To Your Business and Industry
Every brand is different. We believe that marketing should be highly-tailored for each brand. Since our team works with a wide range of industries that targets a variety of audiences across many markets, samples of our team's work will convey an approach that is dramatically different from the approach that we would take for your brand.
We work closely with every new member to document their business' unique visual branding and messaging approach prior to conducting any work.
Click here to learn about our team's industry-specific strategic approach.
Our team will execute this project in defined phases and we will keep you updated on progress within each phase of development, giving you the ability to provide feedback, direction or collaborate with our team throughout every step of the process.
1) Access Coordination and Strategy
During this initial phase, we review your Member Profile and the project details, and ask you any clarifying questions, if necessary.
We confirm access to your website's hosting account, domain registrar, Mailchimp or other mail services, if applicable, and any other third-party services or plugins that will be used in this project.
Our team reviews the sitemap and website content, which is typically developed before this project, to use as a reference throughout the site build.
We typically choose a WordPress theme for your website and present it to you. We also may recommend special plugins or services for your website.
2) Initial Project Approach
During the next phase, our team prepares to begin the site build. We create a WordPress installation for the website on our development server and set the site to "no-index" in order to avoid search index of the development site.
We install all of the necessary plugins that will be used for the development of the site. Depending on the chosen theme, we set up all theme options, including colors and fonts, to align the site branding according to your visual branding guidelines in your Member Profile.
Using the content from your Website Content project, we build out the home page content areas according to the sitemap.
Once our team completes the home page, we present it to you, providing a clear understanding of our strategic approach behind the design. We encourage your feedback at this phase if the design does not align with your vision.
3) Project Production & Control
During this next phase, we move forward with building your webpages using the sitemap and website content.
When the project is close to the halfway mark, we prepare the site to present to you, including performing the following tasks:
Check all links to ensure that they are working and linked correctly.
Check all site functionality to ensure that everything is working correctly.
Scan the entire site for spelling and grammar errors.
Check contact information across site.
Check to ensure that there is no filler copy on finalized pages.
Ensure that all major webpages developed at this point contain the final copy.
At this phase, most primary pages should be completed. Secondary pages may still need to be completed, if any.
Once about half of the website is completed, we send you an update outlining progress, direction, and strategy follow-through. Again, we encourage your feedback.
4) Project Presentation
For this phase, our team creates the rest of the webpages and finalizes them, implementing any feedback you provide us. We review the page layouts to ensure functionality and test the mobile version of the website.
We review the site marketing funnel to verify that there are no obvious mistakes and that the site is optimized to make conversions. We double-check calls to action, cross-selling elements, primary and secondary navigation, and any other elements related to driving traffic.
Once the project is complete and before any of the project elements are deployed live, we present a full video overview of your website, outlining execution of design choices, strategy, examples of SEO best practices, and any other relevant details.
Again, we encourage your feedback at this phase.
5) Project Closure Plan
Once you have had time to review the website, we implement your feedback and finalize the website.
Once all changes are complete, our team runs through the site migration to the live server. If there is an existing site at the live server, we complete a full backup as the first step of the site migration.
Once the website is migrated, we double-check all images, logos, and links to make sure that everything has transferred correctly. We update the WordPress installation, if necessary, as well as all plugins and themes, double-checking for any conflicts after the updates.
Our team tests all forms on the live server to make sure that they are submitting to your business's chosen address. We make sure that all elements using third party APIs are hooked up correctly (Google Maps, CAPTCHA, MailChimp, etc.).
We uncheck the "no-index" option so that the site can be found by search engines.
Once the website is live, we prepare your website for future marketing initiatives by performing the following tasks:
Provide you access to the source files.
Set up confirmation pages for forms that will capture traffic.
Set up a Google Analytics property if you do not have your own account.
Set up and verify the site through Google Search Console.
At the completion of this project, our team provides you with a final update that includes links to source files as well as login information containing your WordPress installation and any third-party software associated with your website.
Our team works as a fluid extension of each of our member's businesses by developing strategies and executing projects in whatever capacity is best for their unique needs.