Your New Marketing Services Production Team
A Full-Scale Marketing Team At Your Fingertips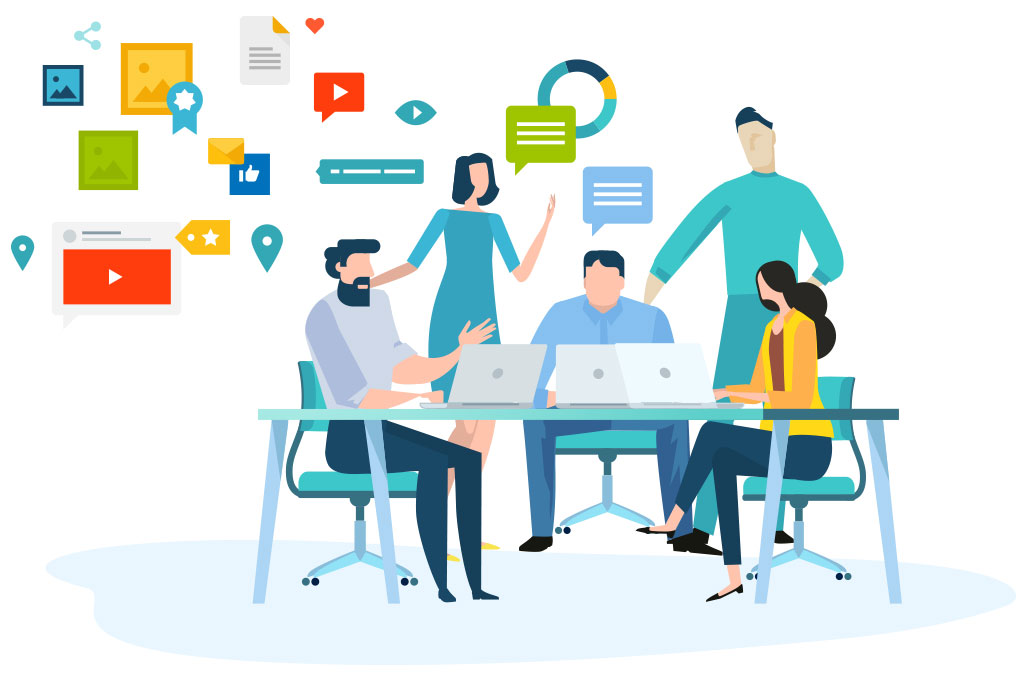 Grow Your Agency…
Without The HR Headaches.
Our team is here to help you provide more services so you don't need to learn more skills, hire more staff, or juggle more freelancers.
With no minimum terms, you are free to start and stop programs according to your needs and your client's budget, without the high-pressure sales.
Start delegating any marketing project to our teams right away – we're available on demand.
A Fluid Extension of Your Agency
With a SharedTEAMS partnership, you are freed to focus on using your top skills to serve your clients while also having time to grow your own business. Then delegate the rest to us. This way, you can provide your clients with more services – without hiring more staff.
Our full-scale marketing team fulfills advertising, communications, social media, website development, and graphic design services – and everything in between. We're a cross-functional team serving businesses in nearly every industry across the U.S. Each team member is an expert at his or her craft.
Our advertising teams are experts in audience targeting and CRO. We can build your campaigns, set up tracking, analyze data and ROI, provide your client reports, and everything between.
Our web team can help with anything from ground-up strategic planning and builds to regular monthly maintenance. We offer flexible support to meet your ever-changing needs and bolster your growth.
We create fresh and engaging content for social media campaigns. We employ audience targeting to meet buyers where they are on their journey. We can help you keep your clients' pages active.
Content creation is often a roadblock for freelancers and busy agencies alike. Our experienced writers will save you the headache by providing content for everything from a newsletter or mailer to full website content.
Regardless of whether it's print, digital, or full client rebranding, our design team will provide the support you need. Need 100 images clipped for a catalog? No problem. Recurring monthly display ad design? Whatever the need, we've got you.
Perhaps you would like our team to assist with the strategic direction of your client's marketing program or simply a second opinion? Our strategy team is here to ensure that you are providing smart and informed direction for your clients.
MANAGE AND DELEGATE
As a marketing agency or consultant, you determine what projects you fulfill and what projects you delegate to our team, all the while managing your client's program and strategy.
Choose Your Membership
We serve businesses small and large in various capacities. Choose the package that best suits your needs. If your needs change, let us know and we'll change your membership package.
Pay by the Project Hour
Each package states how many project hours it includes within the package cost. Need additional project work? Pay by the hour.
Flexible Packages for Agencies of All Sizes
We aim to support your agency regardless of your size, or the size of your client base. Whether you are an independent contractor in need of support in areas outside of your expertise or a heavy-hitting ad agency in need of help with backed up overflow work, we will act as your support team to help tie up those loose ends.
Corporate
$2,495 Monthly
One Brand
+ $95 Monthly for
Each Additional Brand
Designed for established agencies that require a steady volume of recurring project work for multiple clients.
---
35 Project Hours Included
Additional Work @ $71 Hourly
On-Demand Project Execution
Priority Support
Enterprise
$6,995 Monthly
Three Brands
+ $95 Monthly for
Each Additional Brand
Built for agencies that require a comprehensive and in-depth approach to support their marketing program.
---
110 Project Hours Included
Additional Work @ $64 Hourly
Corporate Plus:
Dedicated Point of Contact
Performance Reporting
Estimate Your Project Costs
Estimate your total project costs by viewing details and estimates associated with our most common projects.